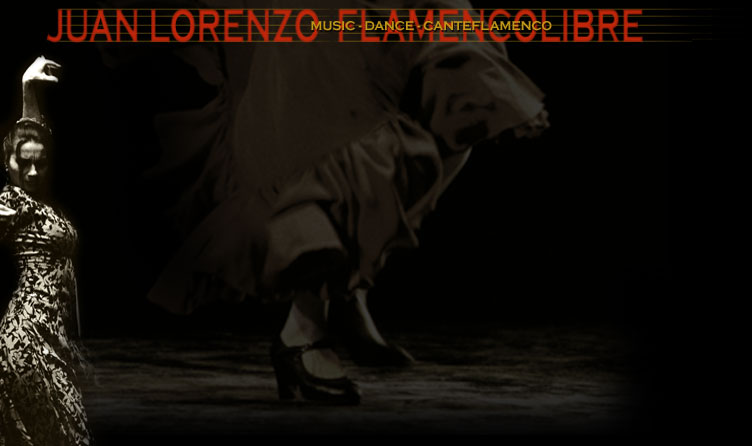 "Misa Flamenca"
(flamenco mass)
Flamencolibre - Juan Lorenzo Company
| | |
| --- | --- |
| José Luis Salguero | cante |
| Juan Lorenzo | guitarra |
| Alberto Rodriguez | guitarra |
| Federico Pietroni | guitarra |
| Elena Presti | voz y baile |
| Pilar Carmona | baile / palmas / castanuelas |
| Sabrina Logue | baile / palmas / castanuelas |
| Dario Carbonel | baile / palmas / castanuelas |
Introduction
FLAMENCO RELIGIOUSNESS

The passion, power and significance of the flamenco art last pure throughout time and express the most genuine feelings of man. The worship is the symbol of flamenco tradition: well-known artists – Cervantes, Lope De Vega – wrote about the religiousness of the people who live in the flamenco tradition. In Spain and particularly in Andalusia, the religiousness of flamenco finds his best expression in the "Misa flamenca" the "cante" which sings the Passion and Death of Christ.
The "Saeta" – Easter singing – is the demonstration of faith in which, as flamenco singer say, cries are pulled out of soul.
In this performance the flamenco dramatic force is highly expressed as to involve the audience and move them to strong emotions.

PROGRAMME

| | | |
| --- | --- | --- |
| Style | | Title |
| | | |
| Taranta | | Canto de Entrada |
| Tiento | | Canto Penitencial |
| Granaina | | Cristo |
| Fandango | | Gloria |
| Peteneras | | Credo |
| Tanguillos | | Santo |
| Martinete / Siguiryia | | Padre Nostro |
| Bulerias | | Cordero de Dios |
| Bamberas / Alegrias | | Canto Eucaristico y despedida |